DATE:

AUTHOR:

The OfficeRnD Team
Setup
General Hybrid Product Updates
🗓 🎉 Hi 2023! Welcome to the next Year of Hybrid
DATE:
AUTHOR: The OfficeRnD Team
Hello, and welcome to 2023!

Last year the demand for remote work or hybrid model has only grown higher. Businesses and employees have benefited from it across all industries. According to this study, 87% of participants said having remote work alternatives improved their work-life balance.

The idea of an office is shifting rapidly, and we're here for it. We believe the future of work is flexible and adaptable to you and your organizational needs and preferences.

Our OfficeRnD Flex product was flourishing in 2022 and owned its place as a leader in the coworking world. And even though we had introduced our OfficeRnD Hybrid product not that long ago, we made 2022 a significant year for us by laying the groundwork for the product's promising future.

Let's take a brief moment to share our huge Thank you! to all of you – our partners and customers – we have learned and developed so much with and from you.
Thank you for your trust and support. We look forward to where this adventure will take us next together. Hang on because we are immensely excited about this new chapter! Scroll down to see what 2023 will look like!

Last year we created the foundations for seamless user experiences across the product:

Last year we focused on building, optimizing, and simplifying the experience of all admins tasked with implementing and setting up the system:
 In 2022 we retained sight of our end users - your employees, and worked to ensure their seamless experiences: 
Introduction of Quick bookings - Click.click.book. Now it takes two clicks to book a spot in the office.

Check-in notifications and more in MS Teams ( watch video here! )

Who's in on the Office Map - Seeing who's around that day can make your day much more exciting and share the moments that matter

New Office Map filters - Looking for your team? Or you'll need to build the complex report you're working on for a spot with that extra screen more quickly? Or a keyboard or another asset? Find the best place for you by filtering the view. 

Outlook Add-in/Plug-in  - You can select the right-sized and equipped available space through our Outlook integration.

QR Codes for all bookable resources 

Slack app - Access OfficeRnD Hybrid, see who's in that day, and book a desk seamlessly.

Invite teammates - Looking forward to seeing your favorite teammates in the office? Invite them over right from the Office Map or the Schedule tab ( stay tuned, an exciting update is coming soon! )  
For everyone, we also introduced the ability to book privately through a Chrome extension and to do all you wish through a more balanced, adaptive, friendly UI design both on the web and mobile.


And here's to the new chapter of our adventure: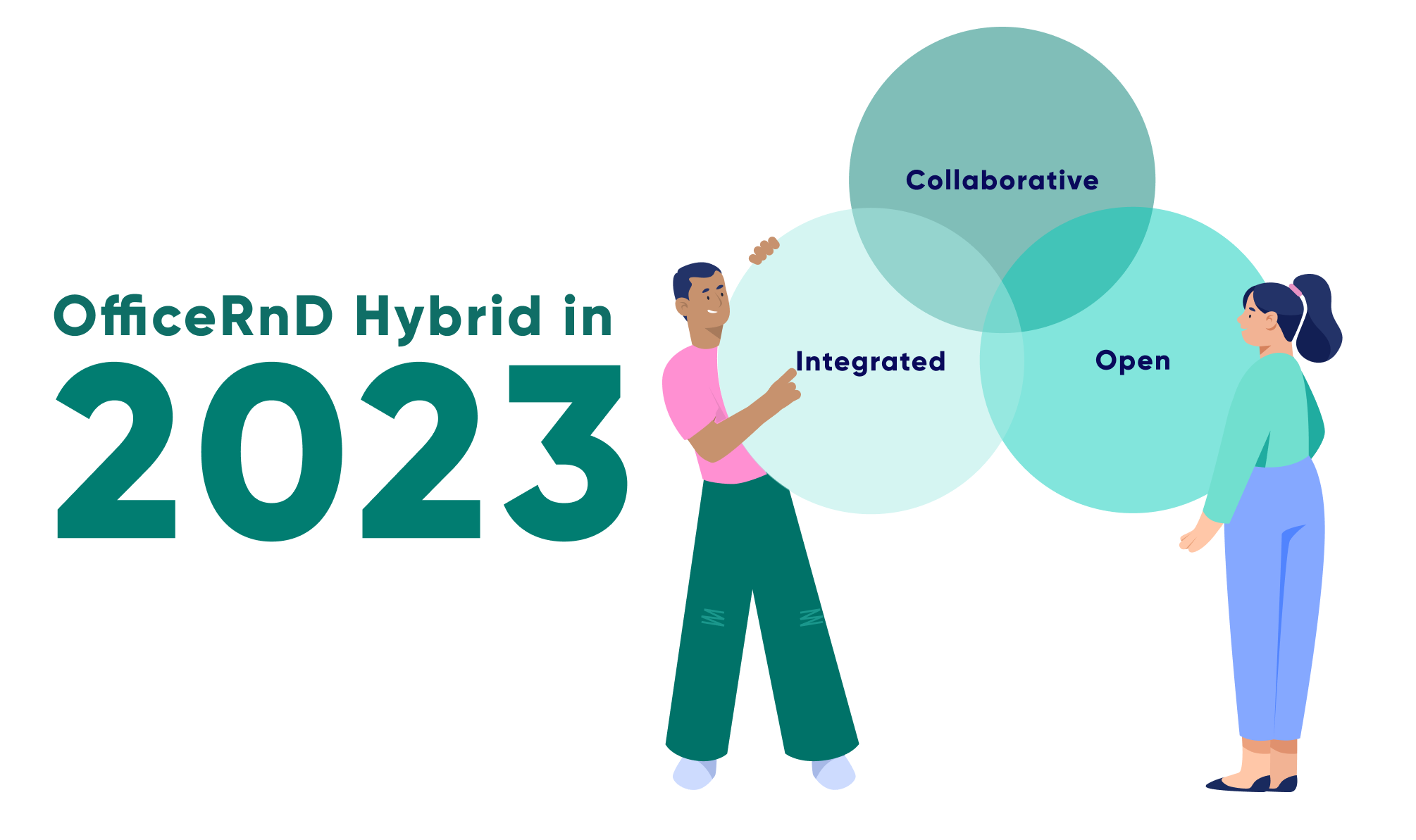 This year we are not stepping but jumping into the essence of Hybrid work as we know it and focus on three key areas:
Focus on Collaboration for the Moments that Matter with the People you're changing the world through work. We will:

enhance our invite experience

provide more personal touch to the invites

increase social engagement

Integrated Solutions will move us further in building a true app-less experience. We will:

enrich our list of integrations

evolve further key existing ones

polish everyday actions and user flows for both web and mobile

Offering open and accessible solutions for businesses from their 0 at Day 1 to the Hero stage. We will:

provide an opportunity to start early on for free

connect Flex and Hybrid within the OfficeRnD space

improve self-onboarding experience and Collaboration with us

help you efficiently manage a Hybrid work model for growing organizations across multiple offices, geographies, and cultures

---

Last but not least, through time, we invested in ways to help you go hybrid and become great at it.
If you have missed them on the way, feel free to dive into our top selection :

These are some highlights, but you can find even more here.

---

You are receiving this celebratory note from us because you are an admin within your organization.
If you would like to stay up-to-date with our product and everything that is coming next - you can click below and customize your subscription for the topics that matter most to you👇🏼

You can also unsubscribe and get all notifications only in the Admin Portal.