DATE:

AUTHOR:

The OfficeRnD Team
Employee Experience
MS Teams
Outlook
Setup
Security
Mobile App
Check 5+ OfficeRnD Hybrid August Improvements
DATE:
AUTHOR: The OfficeRnD Team
Hello everyone!
We're so excited to announce lots of great updates to our platform for both Admins and Employees that we have done since the beginning of August. We've made these changes to make our platform easier to use and even more intuitive and helpful for you! So keep reading and check which ones you have already noticed. Let's go!
For Employees
Organize and host more efficient meetings
New Feature: Microsoft Teams link in Outlook Room Booking
Seamlessly embed Microsoft Teams Web Conference Links in Your Meeting Room Bookings!
You can effortlessly enhance your hybrid meetings by including MS Teams web conference link for remote attendees right when scheduling. With automatic integration enabled through Outlook, mapped rooms, and Active Directory association, this new functionality streamlines the process. To ensure a consistent experience, the MS Teams toggle in the meeting room booking modal is OFF by default.

When privacy is a priority
New Feature: Private bookings by default
You know how until now each booking can be made private. From now on, users can set all their bookings for both desks or spaces to be Private by default.
After this setting, every booking the user makes will be automatically displayed as Private.
Read more about private bookings in our help article here.
Available for setup also in the Mobile app.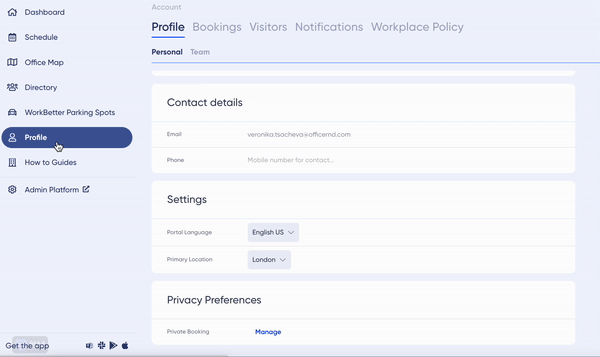 Better plan your hybrid schedule
Feature Improvement: Suggested Days algorithm is improved, and now it`s updating daily to help you find the best days to come to the office super easy to spot and book for.
Have you noticed them already on your Schedule page?


Ad-hoc bookings are getting easier to make
Efficiency Improvement: Show a 30-minute timeslot by default for booking
Now, the Office Map displays precise 30-minute timeslots, ensuring you never miss an available meeting room or resource. Within business hours, you'll see the current time plus the next 30 minutes; the view adjusts intelligently outside business hours. Whether it's early morning or late evening, our filters guarantee you always spot the perfect slot to book.


Navigate easily through time and spaces
New Feature: Time Picker is back in the Office Map. Use it to:
✓ Check office occupancy at the exact time
✓ Find a complimentary desk or room quickly anytime
✓ Navigate easily through office hours
How many of those changes have you already spotted and used?
For Admins
Handle booking approvals with ease
Improved Process: New Buttons and Statuses in the Meeting Room Booking Modal
Until now, you had to open the booking, uncheck 'tentative' and click 'update''.
This seems unnecessarily complicated, so we simplified it and made it more intuitive by adding two new buttons to streamline the process. Now you can directly click Decline or Approve. And we updated the statuses you see on the Bookings Page.
Check it in action in Admin Platform > Meeting Room Management > Manage Bookings.
22 Bugs resolved

And August is not even over yet! More exciting news are coming soon...
Keep an eye on our Roadmap and share with us what else you want to see there and in the product! - Let us know here or share your idea from this box on the left side:


Kee thriving in the hybrid model
,
your ORND Hybrid Team