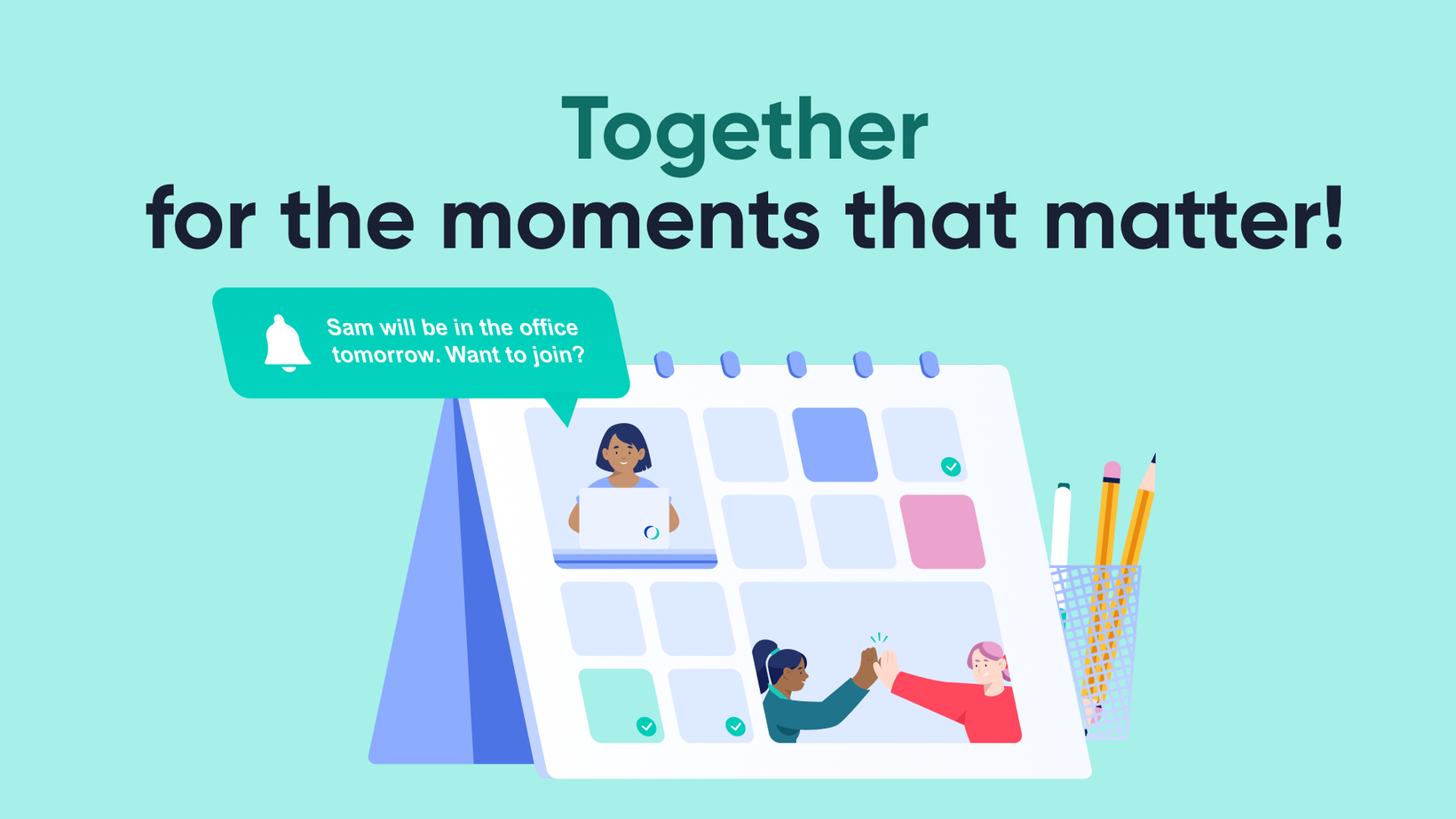 DATE:

AUTHOR:

The OfficeRnD Team

RELATED ROADMAP ITEMS:
General Hybrid Product Updates
New set of features to expand collaboration! 🤝
DATE:
AUTHOR: The OfficeRnD Team
Collaboration is a vital component of any successful team, and this is especially true for hybrid teams. With the rise of flexible work setups and distributed teams, it's more important than ever to have effective collaboration tools to keep everyone involved and engaged in the common goals and mission. And regardless of how far away we might be working, being present together and collaborating in person is still proven to be the most productive and fast way to get things done.
Whether you're a:
Admin for a hybrid organization that needs to make sure that everyone has a technical solution empowering them to plan their weekly Schedule and collaborate seamlessly

Facility or office manager looking to right-size your office and utilize resources

People Manager aiming to improve your team's productivity and collaboration

Individual looking to make the most of their time being productive and joining the team for the moments that matter

This new set of features we are introducing will help you to succeed.
So, let's dive in and explore the power of collaboration for hybrid teams!

Now you can plan your week on the Schedule page.
On top of the weekly view, everyone can see information about existing Workplace policies for their organization or team and plan accordingly.
You can select a location for each day and quickly book an available desk or if already booked - cancel a booking or find your desk ( which will take you to the office map focused on your desk ).

If you decide to work remotely from Other Location option, you can find and select any location through Google Places search.

Under the personal weekly Schedule, you can see the following:
How many people have booked a desk for this day

Which people are coming to the office, and where is their reserved desk located

Easily search for a concrete colleague from the search bar
The next block shows how many onsite meetings you have for that day based on your calendar and meeting room bookings.
From the Onsite meetings option, you can see the following:
How many meetings will you have with booked onsite meeting rooms

Which are those meetings

The meeting information from your calendar, including - time, duration, location, and list of attendees.

You can Invite all guests to the office to join you in person or invite concrete individuals from the Invite button next to their name.

You can add your Favourite collaborators on the Schedule page and see when and where they'll be working from.
You can select and add to the preview up to 15 people simultaneously.
The Favorites list can be modified at any point.
From the Weekly view, you can see when:
Your colleagues will be working from home or remotely, and you can invite them to join you onsite in the office

Your colleagues will be working from the office, and you can click and see where exactly their booked desk is located on the Office Map.
Favourites Logic is also included in the other Hybrid Pages, where you can always see them first on the list on the Dashboard page or in Who's In on the Office Map.


We believe these new features will significantly improve how your team works together, and we are excited to see how you will use them.

If you have any questions or need help getting started, please reach out to us!
Here are a few useful links to take you a step further:

This was only the first, but many more exciting things are coming!

Very soon, we'll also share more about what our Product Roadmap includes for 2023, too
---
If you are reading this update on our website, don't forget to subscribe and stay tuned for all upcoming product updates
👇🏼

If you are reading this via e-mail, you are an admin within your organization or an already subscribed user. In that case - you can click below and customize your subscription for the topics that matter most to you👇🏼

Or you can unsubscribe and get all notifications only in the Admin Portal.