DATE:

AUTHOR:

The OfficeRnD Team

RELATED ROADMAP ITEMS:
Employee Experience
Floorplan Bookings
New Filters to help you find the right space with ease
DATE:
AUTHOR: The OfficeRnD Team
Working in a big workplace with multiple floors or locations and trying to find a spot?
Or just looking for a very specifically equipped space for your upcoming meeting?
We got you covered.

Now it`s easier than ever to find the right space for any time, from anywhere.
We've enhanced our Office Map Filters to help everyone locate and book whatever they need quickly and effortlessly.
With the new Office Map filters, you can search for any available resource within your workplace. Whether it`s a quiet space to work, a collaborative area for a team meeting, or a parking spot near the entrance, we got you covered.
The filters allow you to narrow down your search based on various criteria.
First - select the type of resource you`re looking for. You can filter by amenities, such as monitors, Wi-Fi availability, projectors, or whiteboards, ensuring the space you choose has all the necessary tools.
Need a space in a particular neighborhood or with a specific capacity?
No problem!
Our filters enable you to refine your search to find the most suitable options.
One of the standout features of our Office Map filters is the ability to view spaces matching your filters directly on the map. This makes it incredibly convenient to identify the available spaces in real time, giving you a clear overview of what's available throughout your office.
Once you've found the ideal space, booking it is just a click away.
We've made the booking process even more flexible by allowing you to select an entire day or a specific time slot for your reservation.
Whether you need a workspace for a full day of productivity or a meeting room for a few hours, the results adapt to your scheduling needs.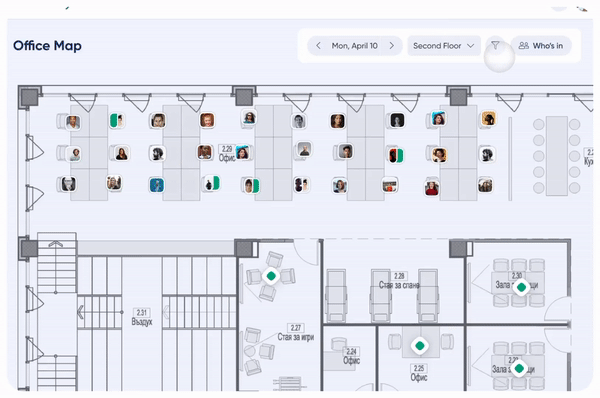 Furthermore, this update is available across multiple platforms.
You can access the New Office Map filters via:

web application of the employee portal

mobile app

and within MS Teams ( both on desktop and mobile )
This ensures that no matter where you are or how you prefer to work, our software seamlessly integrates into your workflow.
Enjoy the convenience of finding the right space and booking quickly in your hybrid workplace!

---
Notes for Admins:
Here you can find a Help Article with details about different resource bookings

Learn here how to add Custom Resource Types and here about the default ones we have available in the platform

Read here how to add/modify Amenities

All Users will receive an update about the New Office Map Filters through a pop-up message when they open the Office Map