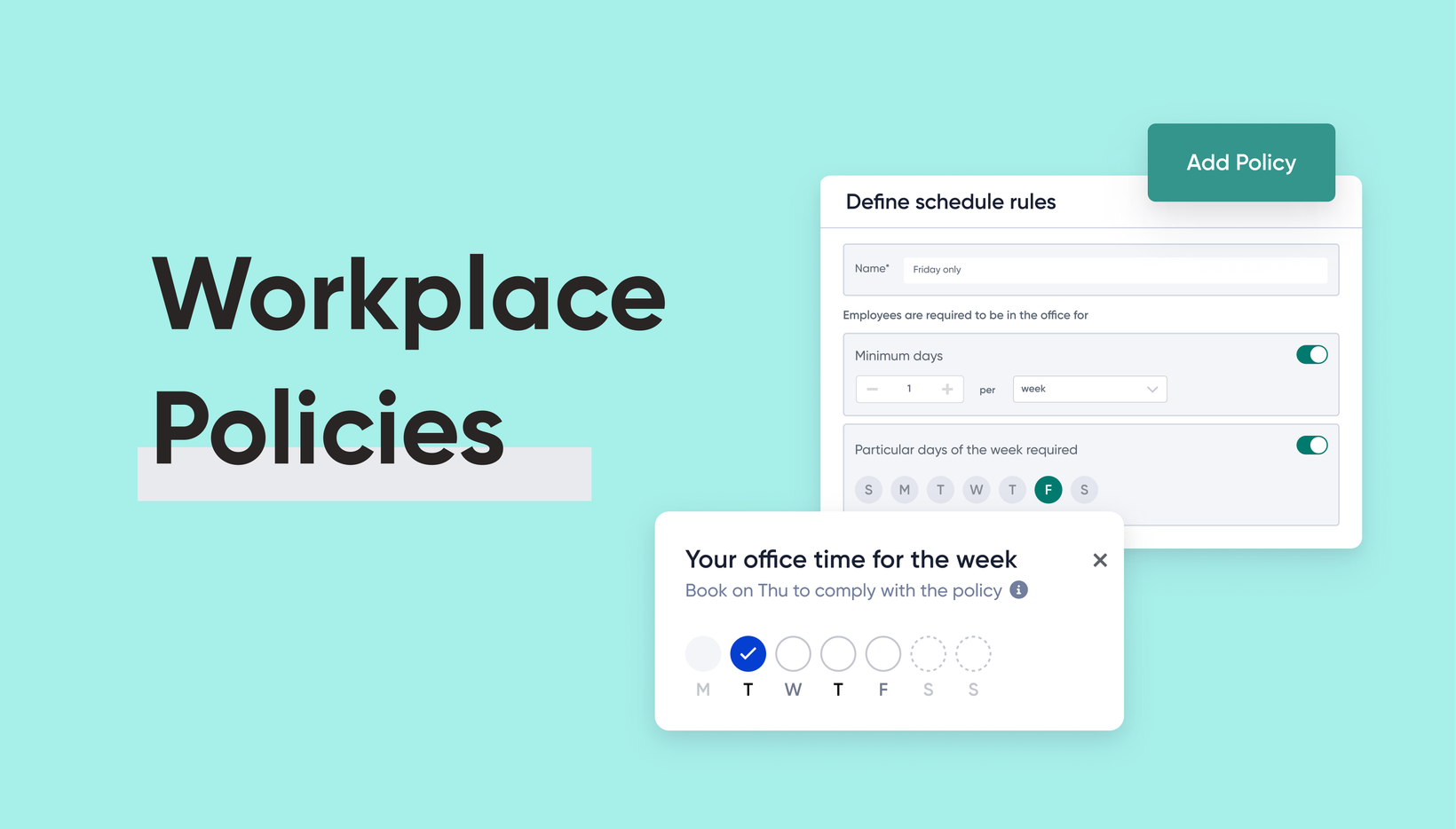 DATE:

AUTHOR:

The OfficeRnD Team
Employee Experience
Analytics
Policy
📣 New feature alert : Workplace Policies
DATE:
AUTHOR: The OfficeRnD Team
Creating the right Hybrid policy for your company or team is easier said than done but there are ways to tackle it. It is an iterative process. Once you create your policy, you need to evaluate its performance, ask employees how they feel about it, and improve it.
There isn't yet an ultimate recipe that can be applied to all organizations, but we have built a tool to help you find and set up the right one for yours...and get all the data about it!

Say Hello to one of our most impactful features to date: Workplace Policies.
You can find them within the Admin Portal > Left menu > Directory > Workplace Policies.

The first version of this feature includes:
For Admins and People Managers
Have full freedom of your hybrid workplace policies customization and setup

You can create different policies for the whole organization, separate teams, or even individual employees and edit them at any moment from the admin portal.

Streamline the hybrid work scheduling process via a hybrid workplace policies system

Understand how people are adapting to hybrid work

Deep dive into the compliance analytics on the organizational, team, or employee level

Monitor presence tracking and office check-ins

Access, export ( as .xls or .pdf ), and analyze policy compliance reports
Don`t worry about employee reminders and notifications for the existing policies - we made them predefined and automated through the Employee Portal and the Mobile app.

For Employees
Easily understand what policy they are assigned to and plan their schedule accordingly

Get updates about any recent changes in their workplace policies

Receive notifications and reminders about their progress with the policy compliance
Want to share the news with the team?
Feel free to send them the link to our official page about it!
HERE

Click on the links below to learn :

Last week, we had a webinar for this and other exciting new features in the Hybrid Product.
If you missed it, do not worry - we got you covered - you can watch the recording here!


and before you hit that play button, don`t forget to:

---
Workplace Policies & Analytics feature is available exclusively for Professional and Enterprise plans. If you are interested in changing your plan, please reach us at: support@officernd.com