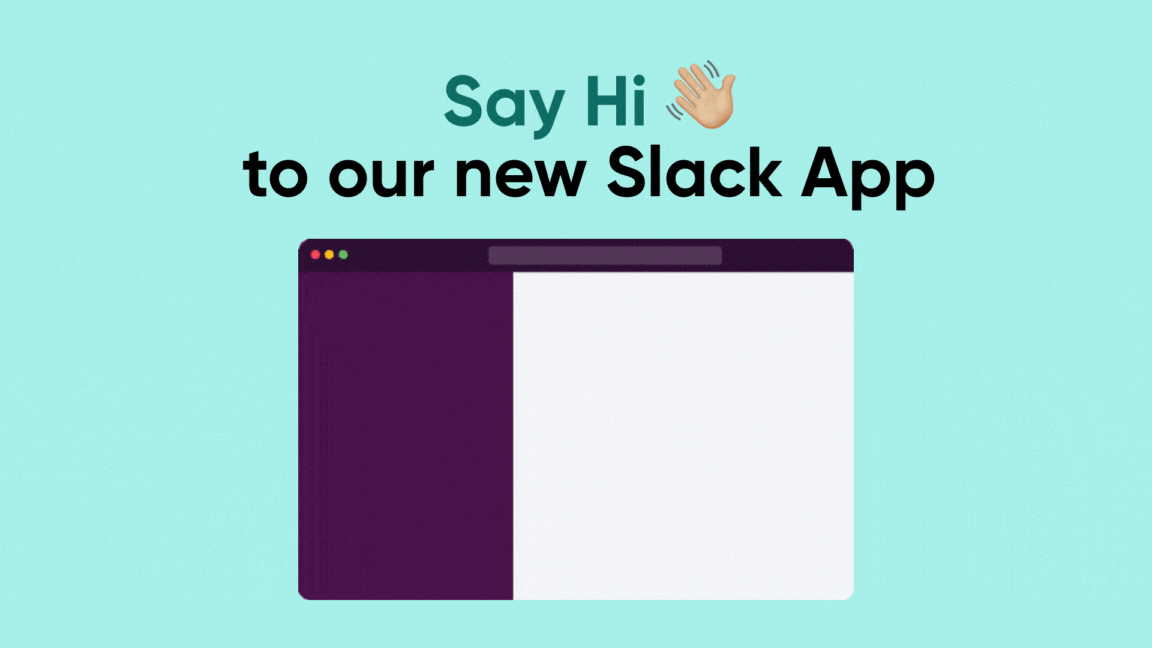 DATE:

AUTHOR:

The OfficeRnD Team

RELATED ROADMAP ITEMS:
Employee Experience
Google
Setup
Policy
Integrations
📣 7 ways we improved our Slack Integration
DATE:
AUTHOR: The OfficeRnD Team
Hey there!
Мanaging the tech stack of a workplace is a complex job, ensuring that everyone is using all tools correctly - even more so.
When talking about hybrid workplaces - this is undeniably crucial; that's why we are continuously working on making our solution's integrations with Google and Microsoft tech sack more and more functional, well-integrated, and easy to use.

Besides our advanced MS Teams integration, last year, we announced our Slack Integration, and today, we`re thrilled to share some amazing news about it!

We Improved our Slack App in
7 new ways
, making your and your employee's experience better in one of the tools you use most.

Our recent updates improve real-time collaboration for teams, making it easier to work efficiently within your organization, simplify your schedule, and manage your workspace. See how:

Now you can quickly book a desk (
1) in several ways in Slack. The simplest way is by clicking the Book a Desk button on top of the Integration itself. When creating the booking, you can select all preferred amenities as well from a dropdown menu.
You can do this on a daily or weekly basis.
Good Practice is to turn your Weekly Scheduling into a Friday routine and plan your week ahead.
In the Home section of the OfficeRnD Hybrid Slack App, you can see your status for each day of the upcoming week and edit it anytime. ( All Changes are auto-synced in the Employee Portal )
For the days you`re in Office - you can Cancel Booking or Quickly access it to make adjustments ( Add Description, Make it a recurring booking, etc. ). Interested who`ll be joining you? See who`s in ( 2 ) also that day.

For the days you`re Remote - you can see who will be in the Office starting with your Favorites ( 3 ) and quickly book your spot there too.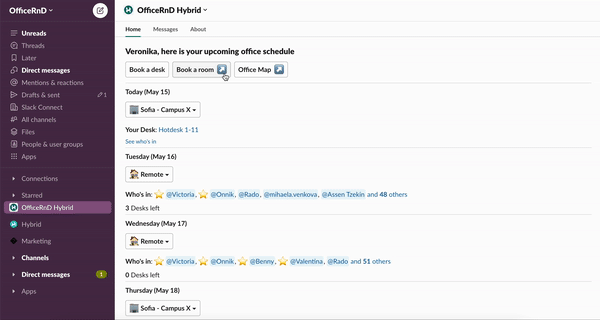 Sometimes the decision to come to the office can come from a conversation with a teammate when you`re planning your next sync.
Then this feature comes in handy - you can do a quick book (
4 ) from any chat within Slack.
Just type /book-desk in any chat and hit Enter.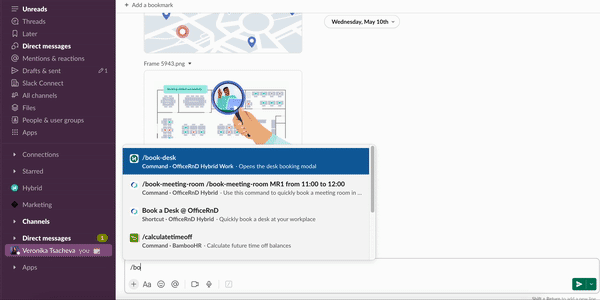 Once a Booking is made, Slack will send a reminder notification (
5 ) ( based on your organization's Booking Policies ) to do a Check-In (
6 ).
You can do it right away through Slack`s Notification. Click, check-in, and You`re all set!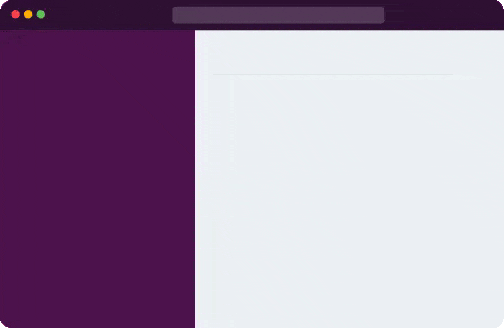 To make sure that you`ll be getting Slack notifications about upcoming bookings - don`t forget to adjust Account Settings (
7 ) in the Notifications section :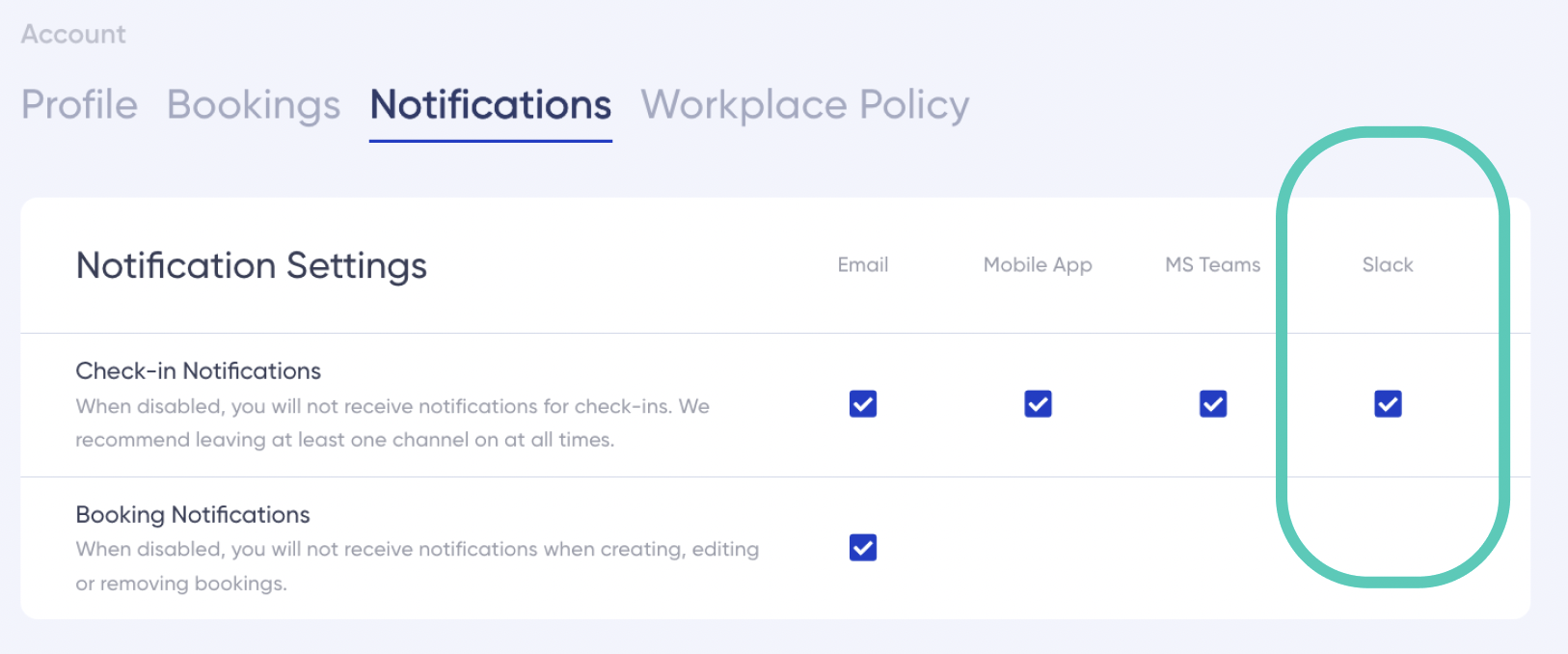 Note for Admins: Once Slack Integration is Enabled for the organization, the notifications will be checked by default.

---
Here are a few more useful Tips :
If you are organizing your next meeting and need a room, you can go to the OfficeRnD Hybrid Slack app a directly access your Meeting Rooms Calendar

When you, as Admin, connect the integration and announce it to the organization, include advice for everyone to Star the App in Slack always to have quick access to it.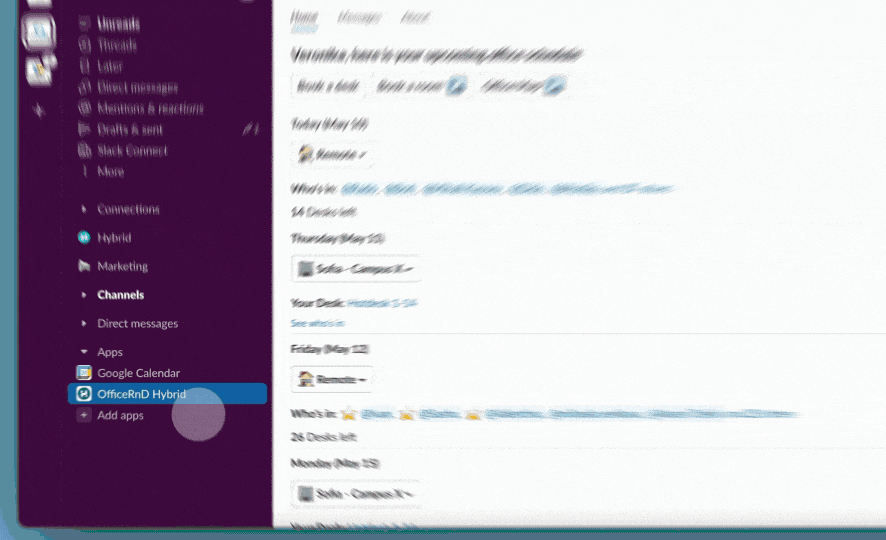 🧑🏻‍💻 Here`s what to do next:


Discover our Slack App in the Slack App Directory

Learn how to connect the Slack Integration for your organization here

Install Slack from this link

Manage Integration from Admin Platform > Settings > Integrations > Communication > Slack

Last but not least - We would love to hear about your organization's experience with the integration! Is there something else you would like to see or do that is currently missing? - Let us know.

Thinking about other improvements across the product?


Kee thriving in the hybrid model
,
your ORND Hybrid Team